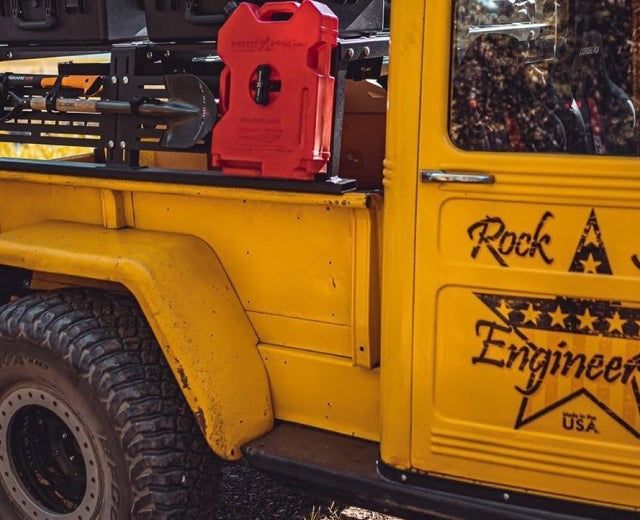 Frequently Asked Questions
A: RotopaX portable fuel containers (PFC's) are CARB, EPA, ASTM, and NFPA certified. Our containers are manufactured using a patented three-layer roto-molding process and specially formulated plastic material that allows us to meet the government's extremely low permeability requirements. Other containers on the market are often non-compliant and have little to no safety features. We pride ourselves in being compliant with ALL standards and regulations that are applicable in the USA. We are the only compliant rotational molded PFC and strive to be the safest, most user friendly, and toughest container on the market. 
A: All Rotopax containers are color-coded for specific purposes to meet both EPA and CARB requirements and standards. Therefore, we do not recommend switching fluids or coloring your container. Gasoline is only available in red, diesel in yellow, and our 2-gallon storage containers come in black and orange. These containers are manufactured with entirely different processes and should not be used for anything other than their designated purposes. This will help ensure that our products continue to perform safely and effectively.
A: The device inside the container is called a Flame Mitigation Devicen (FMD), which is a necessary and legally required safety device for all portable fuel containers. It helps reduce the likelihood of "Flame Jetting," limiting the risk of flame propagation into the fuel container, which can cause explosions or flame jetting. The safety of our customers is our top priority, so we insist that you do not remove or tamper with this device as it can damage your container and will void the warranty. We take the safety of our customers very seriously. That's why our fuel containers come equipped with an FMD device. This device is designed to prevent dangerous situations that can arise when fuel is not handled properly. While it may be tempting to remove it, we strongly advise against it. If you have any questions or concerns about using your Rotopax container safely, please don't hesitate to contact us.
You can find all our mounting brackets on our website (https://rotopax.com/rotopax/mounting-hardware/). We attempt to offer products that are as universal as possible for most applications and understand that every customer's situation is unique. If you can't find the right mounting hardware for your specific setup, don't worry! We have a team of experts who are eager to help. Additionally, We partner with many other companies that build more specific items for specific vehicles. Simply provide us with some details and photos, and we'll work with you to find a solution that works.
A: Both of our 2 gallon containers have the same dimensions and capacity.  The GEN2 2-Gallon Rotopax has a flat bottom, while the GEN1 has an interlocking bottom feature that allows the containers to be combined at the bottom to fit in the same dimensional footprint of a 4 Gallon Rotopax. This design enables more combination options by mixing and matching these gasoline, diesel, water, or storage containers. 
A: The Rotopax can be mounted in any orientation, including vertical and horizontal and will always require regular venting. To maintain the best condition, we recommend venting your Rotopax at least once a day or every 10 degrees in temperature and every 1000 feet in elevation. However, depending on your location and usage, you may need to vent more than once a day, especially in areas with higher heat and elevations. 
To vent your Rotopax, remove your container from its mount and orient the fill neck in the highest position of the container to avoid fuel leaking while pressure  is released. Once oriented properly, simply lightly unscrew the cap to allow the container to remove positive or negative pressure from the container. 
Pro tip: We strongly suggest keeping your RotopaX Fuel container completely full or completely empty. This helps to reduce the amount of fuel vapor inside of the container. Fuel vapor is the key element in excessive container expansion and retraction. For example, The most expansion a container will experience on a hot day is when the container is ¼ full. This tip will help keep your container in great condition for years to come!
A: Leaks are uncommon with RotopaX products. If your container is leaking from the container neck/spout area, we recommend checking and replacing the gaskets or spout itself. If the neck has been damaged, you can lightly sand down the flat container neck area to remove any possible ridges or bumps that could cause gaps between the neck and spout gasket. If this does not resolve the issue or if your container is leaking from anywhere else, please reach out to us directly at support@rotopax.com with pictures of the leaking area of your container and your proof of purchase. Please note that all fuel containers will need to be regularly vented to help maintain the best condition, and not doing so will void your warranty for fuel containers.
A: To mount any size of (1) Rotopax, you will need (1) Rotopax Pack Mount, available in three different options: Standard, DLX, and LOX. The Standard Pack Mount has (1) spinning "T-Handle" to rotate and secure on the indents of the container. The Deluxe Pack Mount has two separate arms that spin down and secure separately for a tighter hold on the container. The Locking Pack Mount has the same two-arm function on the T-handle as the Deluxe, but it has the added locking cylinder feature that is available with two keys. The LOX Pack Mount is not compatible with the use of extensions needed when stacking any (2) Rotopax on (1) Rotopax Pack Mount. We usually recommend using the DLX Pack Mount for stacking (2) Rotopax on top of each other. The extension needed will depend on the size of containers you are stacking, and the largest bottom container will be the determining factor. All Rotopax Pack Mounts come with a separate 4" disc plate, which can be mounted directly to any area or is compatible with our plates. 
A: Due to the way the locking cylinders are made, they cannot be keyed alike; each locking cylinder will have only two keys total. The pack mounts themselves carry the same 1-year warranty as the rest of our hardware; however, the locking cylinders have a lifetime warranty.
A:If you're having trouble with a stuck lock, try using WD40 or any other type of lubricant. If that doesn't work, you can remove the entire locking cylinder by unbolting the pack mount from beneath the container or use a 5/16 drill bit and drill straight down into the lock cylinder about halfway until it clicks and disengages. Then, replace the locking cylinder with a new one from our website (https://rotopax.com/replacement-lock-cylinder-s.html).
A: To use your ECO Spout, remove the dust cap and set the spout inside the black screw cap, with the spout facing outward. Then, twist the red ring on the spout to the unlocked position. You'll feel and hear a "click" once the spout is unlocked. Once unlocked, place the "hook" on the spout body onto the rim of the opening you are transferring fuel to. Push down on the container. If the spout was properly unlocked, the spring loaded spout should slide and allow fuel to flow. Check out our video (https://www.youtube.com/watch?v=q37CgEzUYlA) for a more detailed illustration of this process. Our Rotopax Fuel Spout products come with a 30-day warranty.
A: A blemished Rotopax is offered at a discounted price due to cosmetic or manufacturing defects such as discoloration, scratches, or molding defects. However, these containers are still pressure tested like the rest of our Rotopax products and come with a 1-year warranty. Don't let a minor imperfection stop you from taking advantage of our quality Rotopax products. With our blemished options, you can enjoy the same great features at a discounted price.
A: You can stack a maximum of 2 cans.
A: The size of extension required is directly correlated with the size of the bottom can. For example, if you want to stack a 1 gallon container on top of a 3 gallon container, you will need a pax mount and a 3 gallon extension.
A: Locking Pax Mounts are designed to secure the can in place, but the top can can be rotated, removing the can and the locking "T" handle. We recommend using Locking Pax Mounts for cans that are not stacked.
A: No, the plastic compounds used to manufacture the cans are specific to the labeled contents. Using a different substance than what is indicated on the label could compromise the safety of the product and invalidate the warranty.
A: Unfortunately, the storage boxes are not waterproof or dust proof. However, they are highly durable and provide an excellent solution for carrying and storing your gear.
A: RotopaX and FuelpaX are both durable and mountable portable fuel containers manufactured by RotopaX, but they have some differences. RotopaX containers are rotationally molded containers and have a design that allows them to be stacked and interlocked with other containers. They come in various sizes ranging from 1 to 4 gallons and are made of a high-density polyethylene material that is resistant to fuels and harsh weather conditions. RotopaX also offers a variety of mounting options to secure their containers to different vehicles and outdoor gear. On the other hand, FuelpaX containers are manufactured using a blow molded process out of a less rigid plastic material than RotopaX. They come in sizes ranging from 1.5 to 4.5 gallons and are designed to be mountable. FuelpaX containers are built for everyday professional users such as lawn care specialists, contractors, service truck drivers, or the DIY weekend warrior that keeps his garage organized and the fuel container off the floor. Ultimately, the choice between RotopaX and FuelpaX containers will depend on your specific needs and preferences but are both backed by the enthusiast team at RotopaX Legacy LLC.